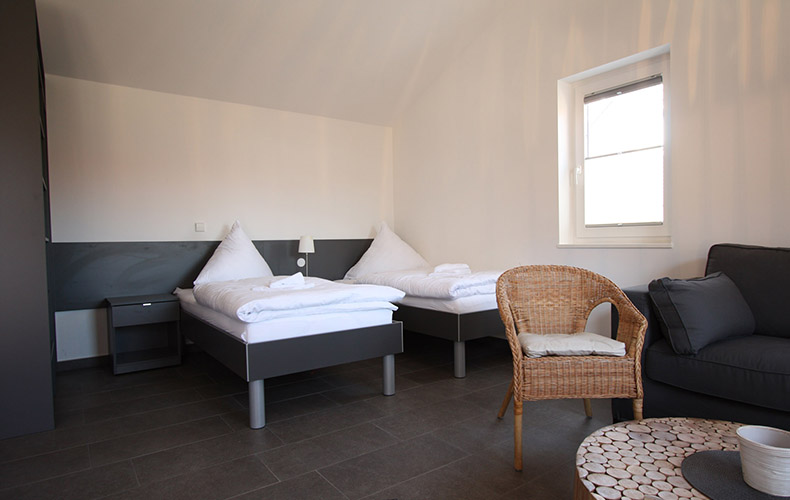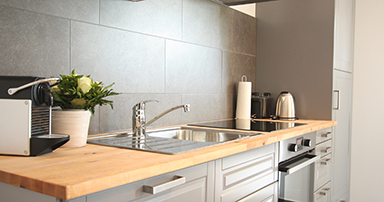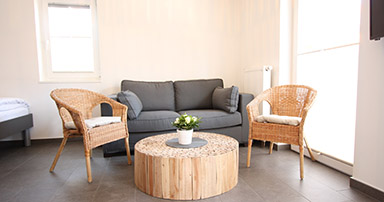 + show 9 more Images
Studio 20 & 21
These noble apartments are furnished in a modern country style with two separate beds, an open kitchen with a bar table and bar chairs, a cosy corner booth and a terrace with convenient sitting accommodations for your conversation.
Feel quite well just like at home – or better? – and relax in the green environment of Lake Arnum.
Location of the apartment
In the vicinity
Arnum, a district of Hemmingen, in close proximity to Hanover, is situated at the Bundesstrasse 3 (federal motorway). This place has been first mentioned as 'Ernun' in a document from the year 990. Hand axes and blades out of the Old Stone Age were found right in the grit of the Leine river. So you can start from the premise that is has been 13,000 years ago when hunters were living on the grit isles in the widely ramified courses of the Leine river.
Worth visiting is the history-making chapel raised about 1400 as a fort. In 1571, this chapel was called 'Maria Magdalena Church'. Destroyed in 1626 during the Thirty Years' War but rebuilt, it was restored in 1985 and essentially readjusted in 2006.
Along Goettinger Strasse in Hemmingen you will find all you need for daily use and still more – for joyful relishing: bakeries and butcheries, a wine shop, restaurants, banks, pharmacies, drugstores, fast food restaurants, and supermarkets.
Frequently asked questions about accommodation
IS LAKE ARNUM APARTMENT FACILITY FAVOURED BY FAMILIES?

Yes, it is well estimated by guests who are booking a family holiday – you are welcome here!

WHAT IS THE BREAKFAST LIKE?

Our guests can choose between the classic continental breakfast and à la carte..

HOW MANY CHAMBERS ARE OFFERED IN ONE APARTMENT?

You can choose from a large number of accommodation options. Our apartments are studio flats, one-bedroom flats, and three-room flats:

- 1 bedroom
- 2 bedroom
- 3 bedroom

More detailed information can be found in the breakdown of accommodation on this page.

WHAT IS THE TIME FOR CHECKING-IN / CHECKING-OUT?

The Check-in starts at 3 h p.m. (15:00 h) till 7 p.m. (19:00 h) ; check-out is up to 11 h a.m. (11:00 h).

HOW MANY GUESTS CAN STAY OVERNIGHT IN ONE OF THE APARTMENTS?

Depending on the disposability of individual apartments you can room up to six guests for staying overnight. Please look at the corresponding description of each apartment:

- 2 Guests
- 3 Guests
- 4 Guests
- 5 Guests
- 6 Guests

More detailed information can be found in the breakdown of accommodation on this page.

WHAT ARE THE HIGHLY RECOMMENDED ACTIVITIES OFFERED DIRECTLY BY THE LAKE ARNUM APARTMENT FACILITY?

We offer the following activities as services of our facility (occasionally charges might accrue:

- Bicycling
- Hiking
- Playground
- Ping-pong
- Fishing
- Water sports facilities on site

IS PARKING NEXT TO MY APARTMENT POSSIBLE?

Parking ist cost-free next to your apartment; in addition there are lots of parking facilities on parking places and along the roads:

- Parking
- Parking space included
- Parking on site
- Secured parking spaces
- Parking spaces on the street